Our Truthful Father - The Crosswalk Devotional - June 30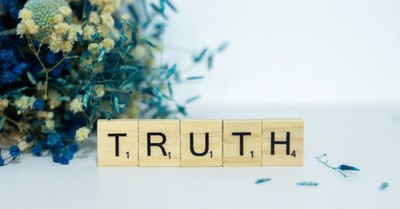 By Chelsey DeMatteis, Crosswalk.com
Our Truthful Father
By Chelsey DeMatteis
"Sanctify them in the truth; your word is truth. 18 As you sent me into the world, so I have sent them into the world. 19 And for their sake I consecrate myself, that they also may be sanctified in truth." - John 17:17-19
This world is a messy place. It's loud, vigorous, and rampant with waywardness. It squanders truth at all costs and labels it excluding. It elevates falsehood and celebrates it as love. This reminds me of what my life looked like before I claimed Jesus as Lord over all. I sadly craved the false stability of living for the world and took the bait of the world's standards of "truth". I ushered in opinions of anyone and freely welcomed desires to feed my emptiness. "Truth" in my life at that point was formed by nothing more than feelings and emotion-based responses. But God! By His grace, He swiftly saved my soul from this path of destruction.
When I finally surrendered my life to Jesus, I didn't know anything more than the Lord's prayer and John 3:16. I pray that gives you hope (either for yourself or for someone you're praying to come to know the Lord). I wasn't a Bible scholar, I didn't have much of anything in my memory tank from what I'd learned in my youth, but what I did have was a heart at the end of its rope and small a very small yet powerful reminder of God's Word.
It honestly amazes me that I had God's Word still written on my heart through all my years of rebellion. These small seeds planted in my heart as a child would soon be watered and flourish into a deep desire to pursue the truths of God and His heart. I no longer wanted to live in this emotional state of being tossed to and fro by my feelings and other people's opinions. My soul craved the actual truth, the undeniable, unwavering, all-consuming steadiness of God.
As I began to grow in the knowledge of His Word through taking time to study Scripture and be poured into by mentors, His truth began to pierce the harshest parts of my flesh. The promise of sanctification began to reveal areas of my life I didn't know needed tending. Suddenly the truth I found in Christ became my anchor and the falsehood of my former life had to flee.
This reminds me of Jesus' prayer in John 17. Jesus was praying to our Heavenly Father on behalf of those who were believers (those who came to a saving faith), not for those of the world. He prayed that we, as believers, would be sanctified in the truth because his Word is truth (John 17:17). I saw this unfold personally, which is why it has always been a favorite part of Scripture for me. It boldly lays out not only who created truth but tells us why we're called to walk in it.
It all boils down to this, God is truth and the truth from God sanctifies our sinful flesh. I can without waiver promise you, that God is all truthful. In Him, we find everything we need - peace, hope, joy, mercy, grace. Through Him, we become the salt of the earth and the light of the world. Because of His love for us, we were gifted His Son, and through Christ's life, we've received the truth of the gospel which changed our lives on earth and our lives eternally forever.
Intersecting Faith and life:
Today, where do you see areas of truth you shy away from and why? Ask the Lord to lead you to places in His Word that remind you He is always truthful and that the truth comes from Him alone. How can you live out His truth today where the Lord has you?
Further Reading:
John 17:1-26
Photo Credit: Unsplash/faithgiant
Chelsey is the voice behind the Living with Less Podcast and author of the 52-week devotional More of Him, Less of Me: Living a Christ-centered Life in a Me-centered World. She writes devotions for Lifeway Women's Journey Magazine, Crosswalk.com, and iBelieve.com. She also writes Bible reading plans for the YouVersion Bible App. Chelsey lives in Central Ohio with her husband and two children. You can connect with her on Instagram @livingwithlesspodcast and at her website ChelseyDeMatteis.com.