How to Find Biblical Joy When You Face Financial Struggles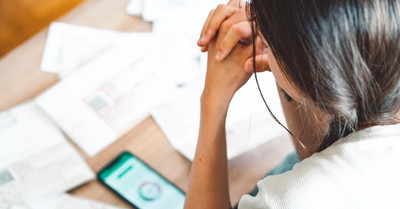 By Gina Smith, Crosswalk.com
"Money is really worth no more than as it can be used to accomplish the Lord's work. Life is worth as much as it is spent for the Lord's service. Be assured, if you walk with Him and look to Him, and expect help from Him, He will never fail you. Laying up treasures in heaven will draw the heart heavenward." George Muller
My husband and I have never made a lot of money. Having worked in ministry-type positions for most of our married life, the organizations we were connected with weren't able to pay their employees very much, which often left us staring at our checkbook at the end of the month, wondering how we were going to pay our bills. Sometimes, living this way has become frustrating, and I have grown weary.
Humanly speaking, my husband should probably be making more money than he does. He has two master's degrees and years of experience, but the bottom line has always been that we know God called us to each place we have served. He has shut every door we tried to aggressively kick down, trying to force ourselves into another (better?) way of living. Ultimately, we have submitted to what we've been called to do, even when we didn't always understand why God kept us there. This has been used to help us learn what it means to trust God to provide for all our needs.
As believers, we are responsible for stewarding what God entrusts into our care. The paychecks and possessions he places in our hands are given to meet our needs and are to be used for his purposes. Have there been times over the years when we came up short at the end of the month or when a need arose? Yes. There have been more times than I can count when we wondered how we would be able to pay a bill, get a broken-down car repaired, pay for braces for our children, replace a broken microwave, or even buy a gift for an upcoming baby shower. During those times, and many others like them, we have gone through a process of feeling helpless, frustrated, stressed, and finally, asking God to provide.
After 34 years of living this way, I can tell you that there has never been a time that God has not been faithful. He has always met our needs in ways that had his name written all over it. We have always had more than we need.
Have we always managed our money perfectly? Absolutely not. We have been in a learning process when it comes to budgeting our money, but God has been so merciful to us and has graciously provided in miraculous ways, even when we were less than perfect in our money management. Ultimately, he knows our heart's desire has been to steward his provisions well.
What JOY we have experienced knowing that He has been faithful, even in the times we may not have been as faithful as we should have been, and that his promises that tell us he will provide for all our needs are TRUE.
Verses to Help You When You Face Financial Struggles
Psalm 37:25. "I have been young, and now am old, yet I have not seen the righteous forsaken or his children begging for bread."
I love this verse. God has never, and will never, forsake his children. We can cling to this verse and find hope and JOY in its promise!
Proverbs 3:9-10 "Honor the LORD with your wealth, with the first fruits of all your crops; then your barns will be filled to overflowing, and your vats will brim over with new wine."
If our heart desires to honor God with what he entrusts into our hands, he sees that and will bless it. Will we be millionaires and have the possessions that match what our culture sees as "needs" or show we are "successful"? Maybe, but when we strive to prayerfully steward our money, some of those things will more than likely be taken off our list as our desires change.
Philippians 4:19 "And my God will supply every need of yours according to his riches in glory in Christ Jesus."
When we look at our circumstances and conclude that we have financial struggles, God sees things differently. It is not a struggle for him. He can supply every need we have. Every single one of them!
What Good Comes When You Face Financial Struggles
-It's an opportunity to trust God and live in expectation of his provision. Having financial needs is something God can use to get our attention. When we stop relying on our own abilities, he can enter in and work his miracles. This is when we learn, in a more profound way, what it means to rely on him.
-It's an opportunity to ask God if there is something we should be doing better in managing our money. We can take advantage of this time, when God has our attention, and ask him to show us if there is any way we have not honored him in how we have spent our money. We can ask him to show us how we can better steward what he has already given us.
-It's an opportunity to tell others of God's faithfulness. When we rely on God and ask for him to provide for our needs, we have the opportunity to experience provision in a supernatural way. We then have a prime opportunity to tell everyone who will listen about how faithful God has been in our lives!
Find Biblical Joy by Focusing on God
Thank Him for Who He Is:
Father, thank you for being Yahweh-Jireh - "The Lord Will Provide." Thank you for all the examples you have given, in your Word, of how you provided for your children in the past. They are reminders of who you are, your character, and that you can be trusted to provide for me in every way.
Thank Him for His Faithfulness:
Father, thank you for being faithful and dependable in every way. I have no reason to doubt that you will be faithful today and in the future.
Thank Him for His Promises:
Father, thank you for the many promises found in your Word that you will provide for my every need. I am focusing on those promises today and clinging to them. They provide joy even when, humanely speaking, things look challenging.
Thank Him for His Provisions:
Father, thank you for faithfully providing for me in the past. I have everything I need and more! I thank you, in advance, for how you will provide for me in the future.
To learn more about how to choose biblical joy, check out my book "Everyday Prayers for Joy"!
For weekly encouragement on how to choose biblical joy in all circumstances, subscribe to "Choose Biblical Joy Today"
This article is part of a series by Gina Smith on biblical joy. Here are more of her articles:
How to Find Biblical Joy When You Face Family Conflict
How to Find Biblical Joy When You Battle Depression
How to Find Biblical Joy When Your Heart Is Broken
Finding Biblical Joy in Loneliness
How to Find Biblical Joy When Life Doesn't Look the Way You Thought it Would
How to Find Biblical Joy When the Church Disappoints You
Photo credit: ©Getty Images/Ziga Plahutar
Gina Smith is a writer and author. She has been married for 34 years to Brian, a college professor, and athletic trainer. For 25+ years she and her husband served on a Christian college campus as the on-campus parents, where Brian was a professor and dean of students. They reside right outside of Washington DC and are the parents of two grown children, one daughter-in-law, and one son-in-law. She recently authored her first traditionally published book Everyday Prayers for Joy, available everywhere books are sold. You can find Gina at the following: Website:ginalsmith.com, Instagram, , and at Million Praying Moms, where she is a writer.
Related podcast:
The views and opinions expressed in this podcast are those of the speakers and do not necessarily reflect the views or positions of Salem Web Network and Salem Media Group.
Related video:
There are still things you can do with a little ingenuity and a sense of adventure to make a great vacation for little or even no money. Here are seven low-budget trips you can take this year.