Budget-Friendly Ways to Say "I Love You" This Valentine's Day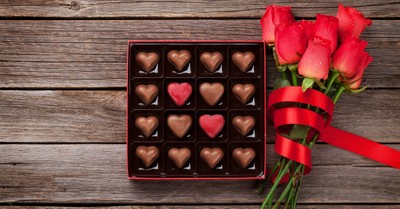 By J.D. Roth, Crosswalk.com
I don't like Valentine's Day — it fosters the notion that romance is something for special occasions. Worse, it's yet another commercial holiday filled with cards, chocolates, flowers, and gifts. I reject the idea that romance is only for special occasions, and I reject the idea that buying stuff somehow demonstrates affection.
I believe it's important for couples to find ways to express their love year-round. If you do choose to celebrate Valentine's Day, don't feel obligated to give a dozen roses and a card — there are plenty of low-cost ways to say "I love you". Here are just a few:
Love Letters
Instead of a card, write your partner a love letter. A mass-produced card isn't nearly as romantic as a hand-written note. I don't remember any of the cards that Kris has given me for Valentine's Day, but I do recall with fondness all the notes and letters I've received. It's a treat to sort through a pile of old papers and to stumble upon a note she wrote to me years ago.
Flowers
It can be fun to give flowers to your sweetheart, but think outside the box. Consider something other than roses. If your partner likes carnations, buy her carnations. If he likes irises, give him irises. Don't be slavish to the red rose mentality. In some cases, a live plant may be most appropriate. I'll bet Kris would be happier with potted tulips than with a bunch of roses.
Love Coupons
Use a word processor and clip art to create 8-12 "coupons" the size of a business card. Each coupon can be redeemed for something the recipient will appreciate. You might create love coupons that your partner can use for a night on the town, a candlelight dinner, a movie of their choice, a weekend getaway, guilt-free time with friends, or — if you're feeling particularly romantic — fantasy fulfillment.
A Second "First Date"
The easy familiarity of a long-term relationship is a wonderful thing. But that familiarity can easily become a "rut." Shake things up by pretending you're going on your first date again. Give yourself a college student's budget, and do the sorts of things you might have done when you were younger. Eat at the local burger joint or pizza parlor. Go bowling or roller-skating. Attend a free concert. Make out in the back row of the movie theater.
Dinner for Two
Prepare a romantic dinner at home. Instead of spending $50 or $100 for a night on the town, spend $25 to prepare a special dinner with your sweetheart. Not only will you save money, but you'll also share the joy of cooking together. Here's an easy, delicious recipe that's perfect for a special occasion:
Port- and Soy-Glazed Beef Tenderloin
(recipe by Caprial Pence, modified by J.D.)
1 tablespoon extra virgin olive oil
2 (6-8 ounce) beef tenderloin
freshly ground black pepper
1 tablespoon unsalted butter
2 tablespoons soy sauce
1/2 cup port
Preheat the oven to 400 F. Season the tenderloin heavily with pepper. (I grind a couple tablespoons of the stuff so that the steak has almost a crust of pepper — you might want to start with less.) Heat the olive oil in a large ovenproof pan over high heat until smoking hot. Add the tenderloins to the pan and sear well, about 3 minutes per side. Set the pan in the oven and roast the tenderloins for about 6 minutes. Remove the pan from the oven and set it over high heat. (Place a potholder over the handle of the pan — it's hot!) Add the butter, soy sauce, and port, and cook until it thickens and coats the back of a spoon, about 3 minutes. Turn the tenderloins over to coat well with the sauce, then serve hot. Drizzle with any remaining sauce.
This recipe isn't exactly frugal — beef tenderloin is expensive — but it's restaurant quality and hard to goof up. Serve with potatoes and a glass of cabernet sauvignon. Dine by candlelight.
Private Rituals
Every couple has a collection of private rituals and symbols. These silly phrases and routines are like glue for a relationship. When Kris and I were first dating in college, for example, I picked up a horse-chestnut from the quad. It was smooth and strong and beautiful. I liked it. On a whim, I gave it to Kris. "This is a love nugget," I told her. "It's a reminder of how much you mean to me." For almost twenty years now, horse-chestnuts have been a sort of secret code between us. I know it's silly, but I'd rather have Kris give me a "love nugget" than have her buy me something new.
Saying "I love you" doesn't have to be expensive, no matter what marketers want you to believe. Love comes from communication, shared ideals, and togetherness, not from buying things.
Article originally posted at Get Rich Slowly. Used with permission.
J.D. Roth is an accidental personal-finance expert, a regular guy who found himself deep in debt. After deciding to turn his life around, he read everything he could about money and finance. In 2006, he started the award-winning website Get Rich Slowly, which Money Magazine named the Web's most inspiring personal-finance blog. Over the past four years, Get Rich Slowly has grown into an active community where 500,000 readers each month share ideas on how to improve their financial lives. J.D. lives with his wife and four cats in a hundred-year-old house in Portland, Oregon. He's the author of Your Money: The Missing Manual. Follow J.D. Roth on Google Plus.
Photo Credit: ©iStock/Getty Images Plus/karandaev