A Prayer for Your Loved Ones Struggling with Addiction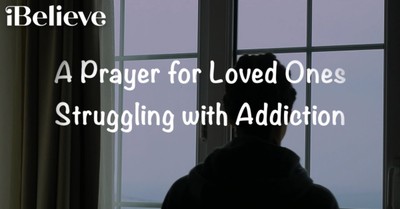 By Ashley Moore, Crosswalk.com
We acknowledge the reality of the brokenness of our hearts and the effects of sin displayed through addiction in our loved ones.
We call on the God who heals! Lord, we come to you confessing our sins and shortcomings. Our big transgressions and even our doubts and unbelief. Jesus, we pray for our addicted loved ones. You say that if we confess our sins and pray for each other, we are healed. You made us righteous with your blood, and that means our prayers produce wonderful results.
God, help us to believe this. Help us use this truth to tear down lies and strongholds from the enemy.
Jesus, we ask for complete healing from our loved one's addictions and complete restoration for our families. Lord, give us the wisdom to understand the very nuanced ways you accomplish your purposes and bring healing. We trust you will use all of this for our good, the good of others, and your glory because your Word says you will (Romans 8:28). Help our unbelief, Lord. Amen.
Read the full devotional here.
Stock footage credit: ©Cottonbro/Pexels and Soundstripe.com
Photo courtesy: ©SWN Design/Soundstripe