God Is the Fortress Your Marriage Needs - Crosswalk Couples Devotional - June 1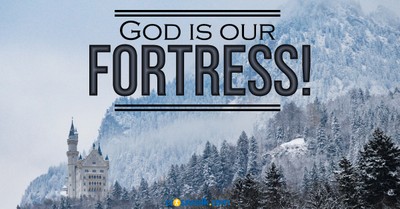 Crosswalk.com

Jesus Is the Fortress Your Marriage Needs
By: Heather Riggleman
Truly my soul finds rest in God; my salvation comes from him. Truly he is my rock and my salvation; he is my fortress, I will never be shaken. - Psalms 62:1-2
Three miserable hours passed as my husband and I assembled our new stainless-steel kitchen island. We bickered about the instructions, voiced sarcastic comments, and were generally unpleasant to each other. But it wasn't about who was more right with the installation guide; we were overwhelmed by the medical bills from Chris' recent heart surgery. We were in trouble and it was pouring into every inch of our relationship.
We stood back to admire our handy work and our view also included a massive fort our kids made from the massive shipping box. They were under attack by ferocious lions as our cats batted at the string covered doorway. "They can't get us in here," my son screeched as he tossed a throw pillow at the lions prowling at the door.
I stood back and thought, Wouldn't it be nice to have a similar option for marriage? A fortress where we could take refuge from all the hard moments in our lives. A place of refuge where we could exhale fear and inhale peace. Oh, but sweet friends, we do. In our moment of anxiety and stress, Chris and I both had forgotten God. We exchanged peace for worry and faith for fear. We also took it out on each other. Isn't that what the enemy wants? For a couple united by God to become divided? It's so easy to toss up something like bills to be "just a part of life," but the enemy can use it for his purpose if we aren't aware.
So what does it really mean when we say "God is my Fortress"? What does it mean for our spiritual walk and our marriage? In the Bible, we find that ancient cities protected their citizens by building large surrounding walls, which created a fortress that kept chaos out. The walls' constant presence in people's lives created a safe atmosphere where communities could thrive despite what was happening outside the walls.
Often in the Psalms, David called God his strong tower, fortress, and his refuge. Especially when he was on the run from King Saul's murderous wrath. Machseh means Fortress / Strong Tower. The imagery which David uses in today's passage comes from his surroundings of a country abounding in cliffs, caves, and natural strongholds. Just as a fortress brought peace to a city, God is our fortress and brings peace to our souls in the midst of the chaos happening around us (Psalm 46:7, Psalm 46:11).
If we pause to think about it, we really do have a fortress, Jesus--the strongest fortress in the universe. He's our rock and our strong shield because our souls have an enemy. We are reminded that our enemy the devil prowls around like a roaring lion looking for someone to devour.
However, we are under God's protection, there is nothing to fear. He provides a canopy of protection against the powers of evil and darkness. He is your secret place. He is your fortress. You can take refuge under His wing because he cares about your life, your heart, and your marriage.
Building a secure fortress isn't an overnight process. It's not as simple as moving into a large shipping box. Instead, it happens day by day, brick by brick, moment by moment as we turn to Jesus in prayer, in our thoughts, in our daily lives. When we commit our lives and our marriages to him, we won't be shaken. When we face difficult circumstances, let's remember to head to our fortress.
What are you facing? What trial or mountain or attack is in front of you or surrounding you? Take a moment now and ask Jesus to help you build your "fortress of peace" in the midst of your marriage.
---
Heather Riggleman calls Nebraska home (Hey, it's not for everyone) with her three kids and husband of 20 years. She writes bold truths about marriage, career, mental health, faith, relationships, celebration and heartache. Heather is an author and a former national award-winning journalist. Her work has also been featured on Proverbs 31 Ministries, MOPS, Today's Christian Woman and Focus On the Family. You can find her at heatherriggleman.com or connect with her on Instagram.
It's time we get real about marriage & relationships! Join marriage coach, Dana Che, as she and her guests deliver witty, inspirational, real relationship talk from a faith-based perspective. New episodes of the Real Relationship Talk Podcast drop every Tuesday.