The Blessings of Obedience - iBelieve Truth: A Devotional for Women - August 10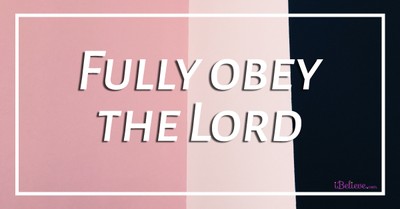 Crosswalk.com

The Blessings of Obedience
By Tiffany Thibault
If you fully obey the Lord your God and carefully follow all his commands I give you today, the Lord your God will set you high above all the nations on earth. - Deuteronomy 28:1
My husband decided to get a puppy for the family. The pup was super little and super cute. However, he was not housebroken and had no clue what the house rules were. He had accidents everywhere. He knocked over his water bowl. He spilled his food. He cried all through his first night with us and no one got any sleep.
We quickly discovered that Oscar was extremely stubborn. He wanted to do things his way, all the time. He was also growing bigger and bolder every day. He nipped at the kids, he tore apart my daughters stuffed animals and he growled at me. Walking him was no fun as he would try to pull ahead. He barked every single night for absolutely no reason, except to keep me awake, (because it seemed that I was the only one who heard him!) Something had to be done. And soon.
So, we hired a trainer for some one-on-one training. He taught us how to get Oscar to respect us. Finally, Oscar obeyed us during the day, walks became more enjoyable, and a white noise fan helped him (and me) to sleep through the night.
Oscar has been with us now for five years. He is still stubborn, but he has realized we are the boss. Oscars respect for us came from his understanding that he had to fully obey. Our rules are not only to keep him safe but also to allow us to enjoy him more.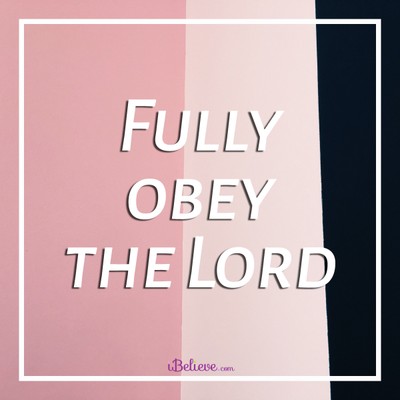 How do you view God? Do you view the things He asks us to do in the Bible as optional? Do you pick and choose what you feel comfortable obeying?
As Christians, in our struggles of living in this world, we often find ourselves at a crossroads of having to choose between living according to the standards of our culture, or living according to the way that the Bible lays out how we should live. Sometimes the decision is easy, other times it is not. Choosing to follow God's rules can at times be very hard. It can make us feel different. It can cause rejection from others.
But what if we were to see God's commands as a way to receive His blessings, instead of seeing his law as a joy killer or as punishment?
There are two Bible verses which stand out in my mind regarding the reward of obeying God's commands. First is Deuteronomy 28:1: "If you fully obey the Lord your God and carefully follow all his commands I give you today, the Lord your God will set you high above all the nations on earth."
Also, this verse from Deuteronomy 5:33: "Walk in obedience to all that the Lord your God has commanded you, so that you may live and prosper and prolong your days in the land that you will possess."
I love to walk my dog when he is being obedient. I am happy and want to give him treats and praise for how he obeys. However, when he is being super stubborn and refusing to listen to me, I cannot end the walk soon enough and I do not reward him with praise or treats, because well, he didn't choose to obey me.
God gives you a choice every single day and in every situation. He wants you to fully obey Him out of your love for Him. He gives you amazing promises of blessings when you chose to obey Him. Why not today, as you walk with the Lord, you look for opportunities to obey Him and see if He will not send blessings upon your life?
---
Tiffany Thibault enjoys living life with her husband, two daughters and one very large dog. She not only homeschools her girls, but she also loves to write about Jesus and speak about Him to groups of women. She loves long walks, coffee and anything chocolate. You can find her over at her blog at www.TiffanyThibault.com.
Looking for authentic conversations about how to deal with body image, insecurity, and comparison issues as a Christian woman? The Compared to Who? Podcast is the show for you! Twice a week, we tackle tough topics like dieting, disordered eating, weight loss, aging, body dysmorphia, and more from a practical, grace-filled, gospel-centered perspective.