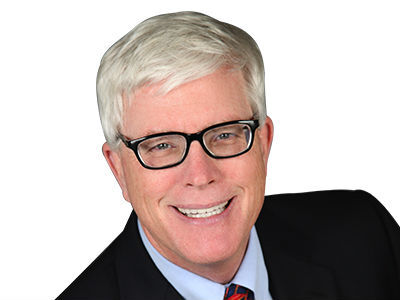 Hugh Hewitt is one of the nation's leading bloggers and a genuine media revolutionary. He brings that expertise, his wit and what The New Yorker magazine calls his "amiable but relentless manner" to his nationally syndicated show each day.
Show Links:
---
Hugh Hewitt is a broadcast pro who has informed and entertained on radio and television for over a decade. Hewitt is co-host of the weeknight television Life & Times Tonight, a three-time Emmy award winner on KCET-TV, Los Angeles. Author of five books, Hewitt continues to write widely on diverse topics from politics to religion to culture for magazines and newspapers across the United States. He is a frequent contributor on television's most watched programs including CNN, Fox News, Nightline, The Today Show, and Larry King Live. A 1978 honors graduate of Harvard University and a 1983 honors graduate of the University of Michigan Law School, Hugh Hewitt served for nearly six years in the Reagan Administration in a variety of posts, including Assistant Counsel in the White House. He is also a member of the California Arts Council and the Orange County Children and Families First Commission. The Hugh Hewitt Show-opinion and information with a unique twist- heard in daily syndication on leading talk stations across the United States including Los Angeles, Washington DC, Seattle, San Diego, Phoenix, Minneapolis, Denver, Sacramento, and Louisville. Available on a market-exclusive, barter basis.
---
Friday, September 29, 2023
Join Hugh LIVE: Weekdays, 6-9AM ET.
Visit Hugh's website: https://hughhewitt.com
Follow Hugh on Twitter: https://twitter.com/hughhewitt
The Hugh Hewitt Show on Facebook: https://www.facebook.com/hughhewittshow/
Hugh on Rumble: https://rumble.com/c/HughHewitt
Subscribe to The Hugh Hewitt Show's podcast here:
Apple Podcasts: http://bit.ly/HHShowApple
Google Podcasts: http://bit.ly/HHShowGoogle
Spotify: http://bit.ly/HHShowSpotify
Check out the Hughniverse for a commercial-free archive of The Hugh Hewitt Radio Show and The Aftershow with Duane "Generalissimo" Patterson anytime you want: https://www.hughniverse.com
---
Two names – Jamaal Bowman and Matt Gaetz – they certainly have all the media attention right now.  And what is it that draws that attention?  Childishness, utter childishness.  Like a two-year old caught with their hands in the cookie jar, denying they are taking cookies.  What's stunning is that the reporting of this nonsense ...